In this month's issue of the Australian Gourmet Traveller, the Gourmet News section on page 16 is devoted to featuring the editor's picks for some of the best pies around the country. Of these, proud Queensland establishments
Bespoke
,
Yatala Pies
,
Joycelyn's Provisions
and
Absynthe Bakery
can celebrate the great honour of making the list.
In addition to that, and just to delve further into the topic of good pies, I would like to make an honourable mention of
Songbirds in the Forest
, which serves a killer rabbit, mushroom and herb pie. Their's is essentially a revamped version of everyones classic favourite, served atop a mound of smoothly pureed mushy peas, and drizzled with a rich madeira jus. Yes, I know this is a little of a longshot from the usual comforts of a messy, saucy meat pie with tomato sauce, but it sure makes up for every bit of that in the taste catagory alone.
Rabbit, mushroom and herb pie from Songbirds, Mt Tamborine
Meat pies have been feeding the hungry man for ages, but sadly, aside from being an expert in devouring them, I know little else about their place in our society. Thus, I took it upon myself to research further into the literature of the humble (meat) pie.
Surprisingly, my research revealed a few neat facts:
- meat pies were described by former New South Wales Premier Bob Carr as Australia's "national dish"
- Australians consume an average of 12 meat pies each per year
- Four'N Twenty Pies produce 50,000 pies per hour
- by Aussie regulations, meat pies may legitamately contain snouts, ears, tongue roots, tendons and blood vessels (urgh!)
Personal research even led me to try Domino's meat pie pizza which, while Bev enjoyed, I was rather disappointed with (it's a pretty cool idea, but having shortcrust pastry on pizza dough is just a little too heavy on the starch for me).
On a lighter note, I discovered this awesome sounding thing called the pie floater, which is a meat pie topped with tomato sauce, and floating in a puddle of green pea soup (oooh!). Apparently it was popular all over the country at one point in time (how long ago was that?), but it's popularity gradually weaned and now its availability is limited to mostly only South Australia, where it was officially recognised as a South Australian Heritage Icon by the National Trust of Australia back in 2003!
Geez, now I really gotta sink my chops into one of those pretty soon! Maybe a little pilgrimage to Adelaide on the horizon? We'll see about that..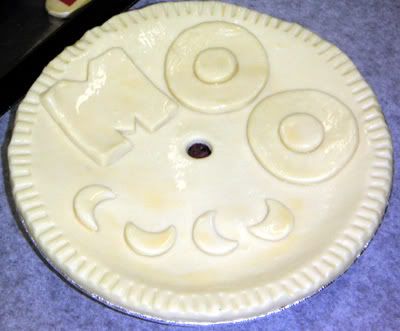 An old picture of me mucking around, making a beef pie