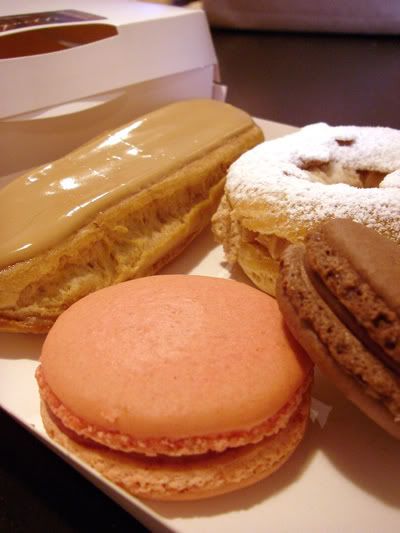 Coffee Eclair, Paris Brest, Cherry Macaroon (yum!) and Chocolate Macaroon
Hidden away from the heavy traffic of Brunswick Street, somewhere in the heart of New Farm, lies this little gem of a patisserie. Chouquette (pronounced shoo-ket) is named after a darling little French pastry made simply with choux pastry (the good stuff used in eclairs) and coarse sugar crystals. Don't get me wrong when I say this, the chouquettes there are lovely ($2 for a bag of 10 bite sized morsels), but what I'm here to rave about are actually the macaroons! The finest yet that we've come across, especially the cherry one, which boasts generous chuncks of fruit laced through the ganache filling.
Chouquettes
Among the other goodies that we sampled were a coffee eclair, a Paris Brest (a donut shaped ring of choux pastry split open and filled with cream, then topped with toasted almonds and icing sugar), and a chocolate macaroon. Just a little trivia about the Paris Brest, and how its name came about: a French pastry chef I once studied under explained to me that the these pastries were first created by a patissier whose patisserie lay along the route of the famous bike race from Paris to Brest, back in the day. In honour of the atheletes, he made these pastries in the shape of a bike wheel. People loved them and they've been around ever since!
Chouquette also specialises in breads and speciality cakes, and the next time we go back, I know I'm definitely gonna get my hands on one of those great looking, rustic baguettes.
Chouquette
19 Barker Street
New Farm, Brisbane, QLD
07 3358 6336
Closed on Mondays