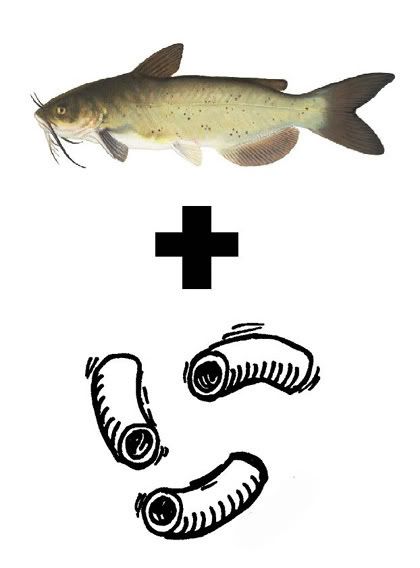 Catfish are very common here in the waters of the Brisbane river. 2 nights ago, Eddie and I went to the river in hopes of hooking us up some dinner. And did we indeed, with the capture of 3 fine looking catfish. Actually, I think it was him that caught all of the fish..
We decided to cook them up with a cornmeal coating, a.k.a. 'Southern' style. I also made a simple macaroni and cheese to go alongside the fish.
Catfish require a different cleaning technique compared to most other fish. Visit
this website
to learn how to clean and prepare whole catfish.
'Southern' Fried Catfish

Fillets of catfish, cut into chunks
1 cup full cream milk/buttermilk
1 tsp cayenne pepper/paprika
1 egg
salt and pepper
Cornmeal (polenta) for crumbing

Mix the milk, cayenne/paprika, egg and seasoning in a bowl. Add chunks of catfish and leave to soak for at least 30 mins. Dredge in a separate bowl containing cornmeal. Deep fry till golden.

*the soaking process takes away some of the muddy flavours associated with catfish. This recipe also works well with other seafoods such as prawns and calamari.
Mac & Cheese

450 grams dried macaroni (or other small pasta shape)
1 onion, chopped
2 cloves of garlic, chopped
1 heaped tbsp of butter
1 heaped tbsp of plain flour
3 cups milk
1 cup shredded tasty cheese/cheddar
1/2 cup grated parmesan cheese (optional)
a pinch of grated nutmeg
salt and pepper

Cook macaroni according to packet directions and drain. Heat butter in large saucepan and cook onion and garlic till translucent. Add flour and stir constantly till flour turns slightly brown, about 2 minutes. Gradually pour in the milk while constantly stirring. Let simmer for 5-10 minutes, till milk thickens, and then stir in the cheeses and nutmeg. Season to taste with a good amount of salt and pepper. Toss hot sauce with macaroni just before serving.
Technorati tags:
food and drink
,
food
,
brisbane
,
food blogs
,
slow food
,
kitchen expeditions
,
catfish
,
macaroni
,
macaroni n cheese
,
southern fried
,
buttermilk
,