I first had this dish at a picnic cum potluck a few years back, where a Thai friend of mine, Noi, proudly presented this dish to the crowd. I was shocked at how delicious this dish was, considering the few very simple ingredients and steps involved in its preparation. Unfortunately I never got around to asking her for the recipe.
Just last week, we had invited another Thai friend of ours, Pang, over for dinner. This time, I was madly craving for Yum Kai Dao and decided that I HAD to make her show me how to prepare it. I've eaten Pang's Thai cooking before, and I can seriously vouch for its goodness; I guess I could rely on her to recreate Yum Kai Dao for me. So she did. And it was lip smacking!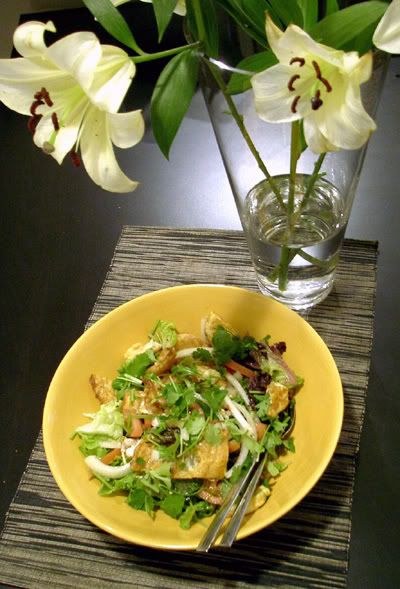 Yum Kai Dao - Deep Fried Egg Salad

4 large eggs
1 brown/white onion, thinly sliced
2 tomatoes, wedged
a bunch of lettuce/salad greens
a bunch of coriander

Dressing:
1 tsp finely grated raw garlic
4 tbsps fish sauce
4 tbsps fresh lime juice
4 tbsps palm sugar
chopped fresh chilli, quantity as desired

Crack eggs into very, very hot oil and deep fry till fluffy and crispy, and yolks are cooked through. The hotter the oil, the fluffier and crispier your eggs will be. Let cool slightly, then cut into rough chunks and toss with vegetables. Combine salad dressing ingredients in a bowl and further adjust the taste as necessary to suit your liking (I like mine quite sour and hot, so I tend to give a few more bits of lime and chilli). Dress the salad and tuck in!