Its been raining for the last couple of days and the weather forecast predicts that this will continue into the week. Thank goodness for this, our dear state certaintly needs every bit of rain it can get.
In liew of this cosy weather, here is a recipe for a stunning cake that can be both healthy and decadent at the same time (minus the cream that is), and really warms you up from the inside out. It was inspired by a recipe in
Neil Perry's book "Good Food"
that I received as a present from Bev a month back. Neil's recipe is based on a cake batter of olive oil and Sauternes, a wonderfully sweet dessert wine with raisin tones.
In place of Sauternes, I have chosen to use a sensational Muscat from the
Mount Tamborine Winery
instead, which boasts gutsy flavours of butterscotch and caramel (I think it was $25). I picked up this bottle of goodness on my last trip to Mount Tamborine, on the Gold Coast hinterland. It was there that I also promised the lovely lady at the cellar door that I'd whip up a fancy dessert to do justice to the fantastic wine somewhere in the near future. Mission accomplished.
Neil Perry finished his rendition of this dessert with Sauternes roasted pears and double cream, and I have done so too, substituting Muscat for Sauternes once again, and adding vanilla seeds to the cream for that extra bit of oomph. I urge you to give this one a go too!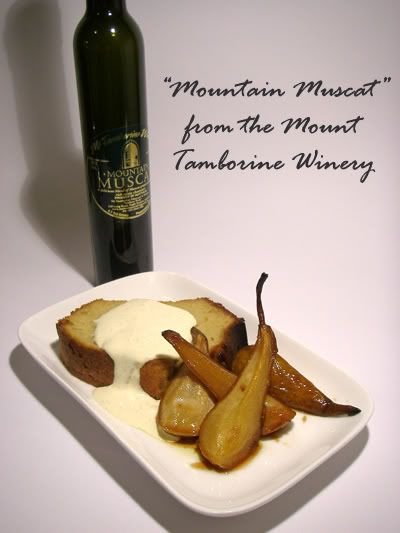 Olive Oil and Muscat Cake

115 gms caster sugar
2 large eggs
185 ml extra virgin olive oil
125 ml Muscat (or other similar dessert wine)
80 ml milk
finely grated zest of 2 lemons
185 gms plain flour
2.5 tsp baking powder

Beat sugar and eggs in a bowl till pale and creamy. Add in oil, wine, milk and lemon zest and whisk to combine. Sift flour and baking powder into the wet mixture in the bowl and mix till evenly incorporated. Pour batter into a greased loaf tin (11 x 22 cm) and bake in a 180 degree celcius oven for around 40 minutes till cooked through. Rest the cake in the tin till it cools down significantly. Cut into slices and serve warm with roasted pears, and a sinful dollop of double cream with some vanilla seeds mixed in.

Muscat Roasted Pears

4 buerre bosc pears, quartered lengthwise, cores removed
80 ml Muscat
2 tbsps caster sugar
2 tbsps olive oil

Place pear quarters into a roasting tin/sheet and drizzle with wine, sugar and oil. Toss to coat. Roast in a 180 degree celcius oven for 45 minutes, alongside the cake, turning ocassionally. Pears are done when they are tender and caramelised. Cool to room temperature.
Technorati tags:
food and drink
,
food
,
brisbane
,
food blogs
,
slow food
,
kitchen expeditions
,
recipe
,
recipes
,
dessert
,
baking
,
muscat wine
,
olive oil
,
cake
,
roasted pears
,
pears
,
vanilla bean
,
double cream
,
comfort food
,
home cooked