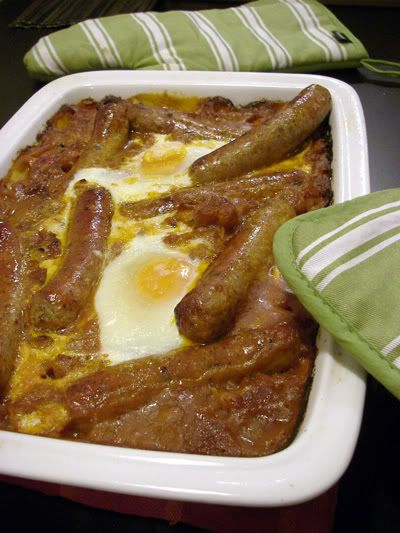 Here's another dish to warm up your chilly winter. Preparing and cooking the beans takes a bit of time, if you are using dried beans that is. However, if you don't mind the idea of using canned beans, please be my guest; it will save you heaps of time to be frank. But for the sake of those purists out there, I will talk you through the steps right from the top, using dried beans to begin with.
Beans in Tomato Sauce with Italian Sausages and Eggs

300 gms dried borlotti/cannellini beans, soaked overnight in water
2 litres water
half an onion
half a tomato
2 bay leaves

1 onion, chopped
3 cloves of garlic, chopped
1 anchovy fillet (optional)
pinch of dried chilli (optional)
1 stalk of rosemary
3 stalks of thyme
1 litre of passata, or equal volume of tinned tomatoes

6-8 Italian pork sausages
a few eggs
extra virgin olive oil
crusty bread, to serve

Drain the beans from their soaking water. Add them to a pot with all remaining ingredients and simmer for half an hour to 45 minutes, or until beans are just tender, and not mushy. It is crucial to add the tomato half as it helps to soften the skins of the beans. Also, do not salt the beans at this point as salt causes their skins to toughen. Once done, drain and set aside. (If using tinned beans, simply omit this step and begin from below:)

In a saucepan, sweat onions, garlic, anchovy and chilli with a good amount of olive oil. Once translucent and fragrant, add in the entire bunches of herbs together with the passata/tinned tomatoes. Return beans to the pan and simmer for 15 minutes. Season to taste.

Place bean mixture in a baking dish. Randomly distribute over the sausages, pricking with a fork to prevent them from 'exploding'. Drizzle sausages with olive oil and place dish in a preheated 200 degree celcius oven. Bake for 15-20 minutes till sausages are nice and brown. Using a spoon, make a few wells in between the sausages and crack an egg into each well. Bake for a further 5 minutes till the eggs are just set. Serve bubbling at the table with crusty bread to mop up the beans and runny egg yolks. Lovely.