Eating Out

:

After a tumultuous week, we decided to treat ourselves to a nice dinner. We made a list of all the places we wanted to try out and decided on one. Since both of us have not been to ISIS, this was the restaurant of choice. So, the reservation was made and schedules were cleared for that opportune date. What a night it turned out to be! We were expecting to be swept off our feet. After all, the establishment have won many awards since it opened its doors to public and is one of the few 3 Star restaurants here in Queensland (as mentioned in The Courier Mail Goodlife 2006 Restaurant Guide).
Isis Brasserie. Here we are! Upon arrival, we were promptly greeted and seated at a cozy table for 2 along one side of dining room, with a clear view into the kitchen window where Chef Jason Peppler and his team were busy churning out the grub. From where we sat, Bev commented that Chef Jason looked like a rather jolly chap. Well, to me, it doesn't really matter; a chef is judged by his/her food.
After ordering our food and asking the all familiar question: "Is it ok for us to take a couple of photos of the food?", we were quickly surprised with a complimentary amuse bouche each. Served in pretty little cups, our waitress described them to be salmon tortellini with some sort of a vegetable concoction on top. After tasting it, I concluded that the 'shady' vegetable garnish served over the tortellini was some sort of a caponata with pinenuts. The tortellini was pleasant, with a smooth salmon mousseline filling. The pasta skin, though, was a little on the thick side, and had a texture rather similar to San Remo's Ready Made Lasagne sheets. But despite that, it was a nice start to the meal.
For starters, Bev opted for the Sauteed local cuttlefish with homemade squid ink noodles. This was one of the specials for the night, and sounded like a pretty neat dish. Personally, I tend to stay away from daily specials, knowing that many restaurants see specials as a means to clear old ingredients. However, upon inspecting the a la carte menu, and not identifying any dish with cuttlefish in it, we were reassured that this wasn't the case. As for me, I chose the Tartare of wagyu beef with a carpaccio of portobello mushrooms and truffled pecorino. How could I possibly go past raw wagyu beef?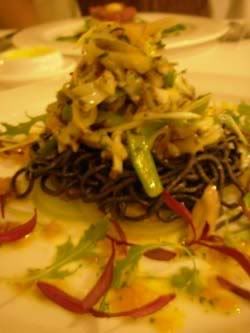 Bev loved her dish, although at first it seemed a little bland. Turns out that it was one of those dishes where you had to get everything together in a mouthful to actually enjoy it. Oh and did she indeed! The dish gave off a strong aroma of onions, but didn't taste very 'onion-y' at all. It was basically strips of seared cuttlefish sitting atop cold squid ink noodles with finely shaved onions, fennel, tomato and micro-parsley. The dish was dressed with some sort of a citrus vinaigrette that tied all the flavours together nicely. It was a very clean starter, and left her in eager anticipation of the main course.
My wagyu tartare was served on top of some very flat slices of portabello mushrooms, cut on a mandoline perhaps, with shavings of sharp percorino cheese and lashings of truffle oil around the plate. The beef itself was evidently minced by hand, rather than in a food processer or meat grinder, the way a proper tartare should be prepared. Yet again it was a very fragrant and flavourful dish, but Bev was slightly concerned that the strong aroma of truffles, the pungence of the pecorino, and the generous amount of capers in the dish would mask the flavour of the beef. I agreed with her sentiments, but ultimately, I still felt the buttery taste of the beef shining through. Towards the last few bites, the dish somehow started to get a Iittle overbearing and I was just a little disappointed that there weren't any accompanying melba toasts to tone down those bold flavours.
After our starters, we were presented with palate cleansers. These took the form of a Vietnamese mint sorbet with Chinese vinegar. Wow. Surprisingly, the vinegar matched the sorbet perfectly, lending it that well needed 'bite'. I asked the waitress if there were any fruits used in the sorbet itself, as it did taste intriguingly similar to a grape and mint sorbet I had made a month earlier. But according to her, it was just mint and sugar syrup. Either way, the sorbet and accompanying vinegar did a great job of blasting out all remaining traces of the tartare from my tastebuds, leaving me feeling fresh and ready for the main course.
For mains, Bev had the Rare seared venison with a celeriac colcannon and a Lindt chocolate sauce. The venison was cooked perfectly, juicy and pink, fanned out on top of a mound of celeriac puree, and surrounded with a bitter dark chocolate sauce. I found that the chocolate sauce to be a little wierd for my liking, neither sweet nor savoury. Bev, however, liked it very much. Also, for some reason there were entire stalks of tarragon in the celeriac puree. To me that was a little ridiculous, as the whole stalks of leaves were rather fibourous and hard to chew. However, on the whole, the dish tasted pretty good despite my few quips, and Bev wiped the plate absolutely clean, in every sense of the word.
I had the Bobby veal blanquette with asparagus, truffled macaroni and creme fraiche veloute. Its been a while since I had a good blanquette. I just love the fact that a dish cooked without caramelisation such as a blanquette, can taste so rich and flovourful like so. Anyway, it was a winner, the fork-tender veal resting on top of truffled macaroni and crunchy asparagus tips. The only problem is that I forgot that I already had a truffled dish for a starter, so the taste of truffles in the macaroni was starting to get a little bit much for me. My bad, my bad. I should have read the menu more carefully before I ordered. Either way, I too polished off the dish with no explicit complaints whatsoever.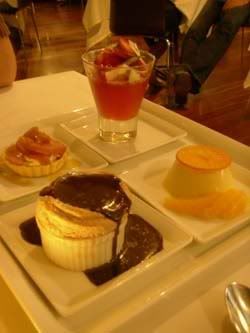 We couldn't decide what to have for dessert, so we ordered the dessert sampler which featured 4 different desserts: a strawberry jelly with fresh strawberries and fresh coconut; an orange blossom panna cotta with an orange crisp (not very crispy); a chocolate souffle with chocolate sauce; and a slice of quince tart. Dessert was good, especially the souffle, which had unannounced sugar glazed pistachios in it, to our pleasant discovery.
Isis is one of the better restaurants in Brisbane that we've been to. I just love the way they play on the classics like tartare, blanquette, coq au vin, and cassoulet. We'll definitely be back in the near future for their cassoulet, which I'm so craving for right now.
Isis Brasserie
446 Brunswick Street
Fortitude Valley
Tel: (07) 3852 1155
Technorati tags:
Food and Drink
,
Food
,
brisbane
,
food blogs
,
slow food
,
restaurant reviews
,
food outings