The weather was gorgeous with the sun in its full splendour. And the occasional welcoming cool breeze. Yes, Spring is definitely here. It was a lovely, leisurely Saturday morning indeed.
We decided to drop by The Powerhouse Farmers Market on Lamington Street, New Farm.




What we love about these farmers markets are the rows of eclectic array of fresh produces, hand made confectioneries, artisan breads, gourmet delicatessens and the arts and crafts stalls. And the wonderful thing about The Powerhouse Farmers Market is that its just beside the park. Overlooking the river, it makes for a
splendid picnic after all that walking and purchasing wares or grub from the stalls.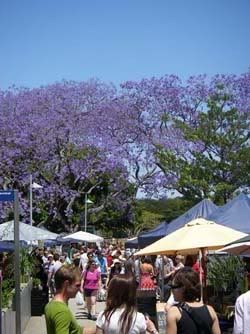 We arrived a little after 10 a.m and already, it was hustling and bustling with discerning market go-ers. And at some of the stalls, the goods were nearly snapped up.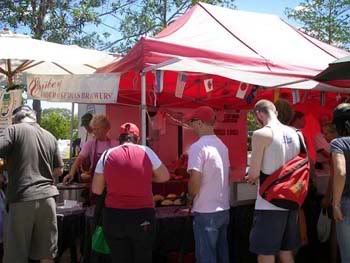 It didn't take Bjorn too long to find a stall where he made his first purchase; Venison Salami from Wilgavale and a grilled Venison Sausage for a snack. Further down the row, a stall churning out freshly made pasta on the spot, caught our fancy; and in goes a bag each of fresh spaghettini and hand rolled fusilli. Next up was a German delicatessen selling all sorts of cured and smoked meats. Needless to say, Bjorn went crazy there, and the spoils included a vacuumed pack each of their Black Forest Ham and Oak Smoked Duck Breast strips.


The fresh mushroom stall we came across next ran out of the pink oyster mushrooms, but we managed to grab some fresh shitake, wood ear fungus, trumpets, king oysters a
nd a box of dried porcini. Right next to the mushroom place was a stall, where I got my first taste of
an Argentinian sauce called

Chimichurri

. It is a concoction of olive oil with a variety of chopped fresh herbs, consisting mainly of parsley, coriander, basil, oregano and thyme. It can be used with bread as a dip, or as a sauce for pastas, or as a marinade for fish and meat dishes. The stall had the Original and Spicy versions of the sauce. I opted for the Original.
Next, we hunted for the Gympie Farm butter stand, renowned for their hand crafted jersey butter, which I'd heard so much about and just had to get my hands on them. We finally found the small discreet stall, whose simple set up was all but a table with their butters, cheeses and a platter of freshly baked chocolate croissants. I gleefully got myself a tub each of the salted (with celtic salt) and unsalted variety. The salted, for freshly baked breads, scones or muffins and the unsalted, mostly for cooking.




I nearly got myself a woven shopping basket. There were a few stalls to choose from. All selling an assortment of pretty, hand woven baskets and other crafts. But by the time I made up my mind, the stall was no longer there. Oh well, next time perhaps.

All in all, it was a beautiful, fruitful Saturday. We even made it to the newly spruced up Portside Wharf
despite having some transportation issues. That was
where we found another gem of a find; a well stocked gourmet supermarket (yes, we went crazy there too!). The weather was perfect, the company was fantastic and the day ended with a delicious dinner, using all the fresh ingredients we bought from the markets and the gourmet store earlier. More on that in the next post by yours truly.

Jan Power's Farmers Markets
Lamington Street, New Farm, Brisbane,
next to the Powerhouse.
Powerhouse Markets are held in All Weather on:
* Second Saturday at the Powerhouse
* Fourth Saturday at the Powerhouse
Technorati tags:
Food and Drink
,
Food
,
brisbane
,
food blogs
,
restaurant reviews
,
farmers markets
,
food outings
,
food events