Risotto- "An Italian method of cooking rice primarily made by stirring stock and often wine into rice that has been sauteed in butter and/or olive oil and sometimes onion. The stock is added slowly, and the rice must be stirred continuously as it cooks, resulting in a soft creamy mass of rice.."
There absolutely nothing that satisfies me more than a rich, hearthy dish of risotto. Risotto, to me, is a fantastic backdrop for a plethora of flavours that may be showcased through it- parmesan, saffron, roasted garlic, mushrooms, peas, pancetta, the list goes on..
Ever too often I find myself out of flour, eggs or sugar; however the one thing that never goes out of stock in my kitchen cabinet is risotto rice. It is, to me, nothing less than essential to good eating.
Risottos make a spectacular meal, whether for one, or for a party of twelve. After many hectic nights in the restaurant kitchen, cooking my own midnight dinner of risotto is a pure comfort to me. Risotto is one of those dishes that requires a labour of love. You get out exactly what you put in. The more conscientiously you stir it, the creamier, the richer the end result will be. So when making your risotto, please give it the utmost care and patience, and I guarantee you will taste the benefits.
Making your risotto:
- Start off with a good variety of aborio rice. Here in Queensland, the best and most readily available varieties would be aborio and carnaroli. I personally prefer the latter, which happens to also be the favourite variety of Thomas Keller, chef of the world renowned
French Laundry
.
- Heat a mixture of oil and butter in a saucepan. Butter gives it a great flavour (On this day, I used natural butter from the wonderful people at Gympie Farm), while oil raises the smoking point of butter and prevents it from burning.
- Add some chopped onions or shallots. I prefer shallots as they lend more sweetness to the final dish. Be sure to cook the onions/shallots till they are well-translucent; this ensures that the maximum sweetness is extracted from them.
- Add the rice and stir to coat. Allow the rice to cook slightly in the fat; this 'opens' up the starch molecules in the individual rice grains, and facilitates their absorption of liquids. On this day, I also added venison salami to the mixture at this point.
- Add white wine (or vermouth) and reduce till almost dry, then add stock bit by bit and let simmer, stirring continuously and adding more stock as it is absorbed. Stirring the rice breaks off the surface starch, releasing it into the liquid stock, which eventually makes the dish thick and creamy.
- Once rice is al dente, with a tiny opaque spot left in the middle of each grain, turn off the heat and add a knob more of butter, and grated parmesan. On this day, I also added a good knob of gorgonzola that I purchased from Jan Powers Market the day before. Cover, and leave alone for at least two minutes. After two minutes, remove the lid and stir to emulsify the butter and the cheese into the cooking liquid. This process, known as
mantecantura
, helps in making the dish even more creamy and smooth.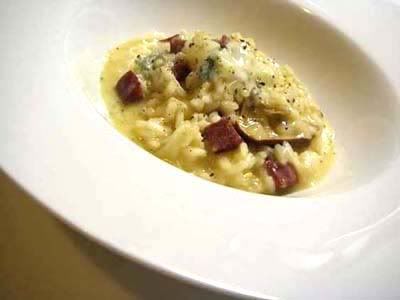 Every one deserves the pleasure of eating a homemade risotto. Do remember to ensure the integrity of the ingredients (tinned SPAM and long-life powdered parmesan just won't do) and do not rush it. Finally, and I have said this to many people: eat risotto with a fork, not a spoon. Shovelling risotto into your mouth with a spoon makes it too easy, mechanical and monotonous, whereas a fork allows you to fiddle with it a little more. I also feel that the first taste of risotto should touch you tongue first, not the roof of your mouth, therefore a fork works best. Enjoy!
Technorati tags:
Food and Drink
,
Food
,
brisbane
,
food blogs
,
slow food
,
kitchen expeditions
,
Cooking
,
risotto
,
italian