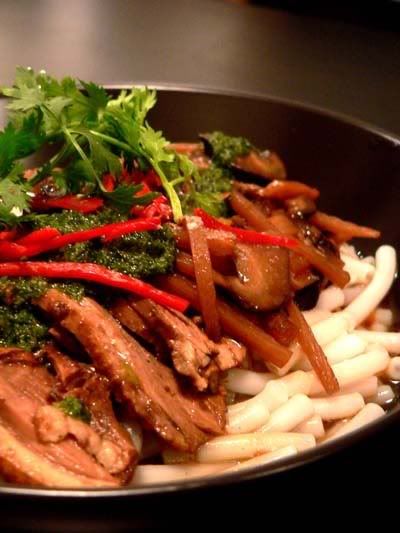 Just a quick shout out to all you good people visiting our blog... Its been a while since our last update. Hence, we're glad to tell you that we are back in business; and what a better way to kick things off than with a series of articles on original, exotic noodle creations that Bev and myself have decided to embark upon.
This one here is a fantastic dish that we contrived out of pure fascination of a special ingredient: rice macaroni.
We first stumbled upon rice macaroni at an Asian grocery store in Sunnybank Hills. Bev and I have always been tantalised by noodles in every shape and form. Rice macaroni, for one, was a noodle that neither of us had ever tasted or heard of before. Freaking out like kids in a candy store, we bought the packet of dried rice macaroni, and rushed home to think of ways in which we could tackle, and do justice to this new epicurean discovery.
After much deliberation, and the golden stamp of approval from Bev, I proceeded to 'construct' the dish.
Braised duck with rice macaroni and ginger coriander paste
Braised duck
1 duck
Chinese five-spice powder
Salt
1 cup brown sugar
1/3 cup light soy
1/3 cup dark soy
1 cinnamon stick
5 cloves
3 star anise
1 onion peeled, left whole
1 head of garlic, left whole
Handful of peeled, sliced ginger
Rub the cavity of the duck generously with the five-spice powder and salt. Leave aside.
In a heavy-bottomed pot, combine sugar with a splash of water and place on medium heat. Do not stir. Within a few minutes, this mixture will begin to bubble. When it changes colour to a deep golden brown (reaches a caramel-like stage), take it off the heat and very carefully pour in the soy sauces and 4 cups of water.
After the splattering has subsided, replace the pot onto the heat and add in all the spices and vegetables. Place duck breast side down in the pot, and top up with as much water as necessary to fully submerge the duck. Braise for 2 hours till leg meat is fork tender. Skim regularly to remove particles from the braising liquid.
Remove from heat once cooked, and let the duck cool to room temperature in its braising juices; this is an important step in maintaining the juiciness of the meat (braised meats reabsorb moisture when they are cooled to 50 degrees Celsius and below!) Once cooled, it can be kept in the refrigerator for 4-5 days. When required, remove the duck from the braising liquid and de-bone. Slice thinly for maximum eating pleasure. The braising juices can then be strained and further reduced to make a scrumptious sauce to accompany the duck meat.
Braised shitake mushrooms and bamboo shoots
3 cloves garlic, chopped finely
7-8 large, fresh shitake mushrooms
1 small can of bamboo shoots, cut into thin strips
½ cup Chinese rice wine
2 cups reduced duck braising juices
Splash of sesame oil
White pepper
Fry garlic in oil till fragrant. Add mushrooms and bamboo shoot. Stir-fry for a minute then add rice wine. When wine has more or less fully evaporated, add in the reduced braising juices from the duck, and let simmer for 2 more minutes or till mushrooms are cook through. Season with white pepper and splash generously with sesame oil to taste.
Ginger coriander paste
2-3 bunches of coriander, inclusive of roots, washed and dried
1 good knob of ginger, peeled and chopped roughly (use more if desired)
1 clove garlic, sliced
Vegetable oil
Sesame oil
Salt
White sugar
Cut coriander into short lengths and place into a blender with ginger and garlic. Top up with enough oil to cover and blend till smooth. Add more oil as necessary to facilitate smooth blending. Season to taste with salt, sugar and sesame oil. Leave to steep for at least 1 hour before use.
~
To assemble:
Cook macaroni as per packet instructions. Place in serving dishes and top with duck slices and spoonfuls of mushroom and bamboo shoots. Drizzle more duck sauce if necessary. Paint tops with ginger coriander paste, and garnish with extra coriander and sliced red chillies. Serve with chilli oil (available in glass jars from Asian stores) for extra kick.
Technorati tags:
Food and Drink
,
Food
,
brisbane
,
food blogs
,
slow food
,
kitchen expeditions
,
braised duck
,
duck
,
rice
,
rice macaroni
,
macaroni
,
ginger
,
coriander
,
shitake mushrooms
,
mushrooms
,
bamboo shoots
,
asian food
,
original noodles