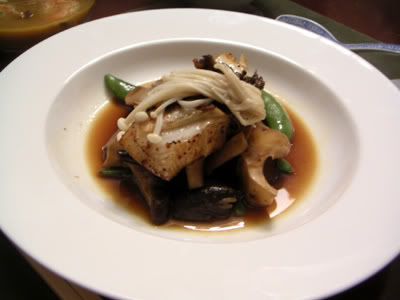 Here's a dish that's so easy to make, you could easily do it in half an hour. As much as many of us feel that the selection of Asian mushrooms available at supermarkets is generally limited to the usual shitake, enoki and oyster, these few varieties are all you actually need for this dish!
So here's how to prepare it:
1) Cut even sized fillets from a soft, white fish (eg, cod, coral trout, halibut, barramundi, snapper, etc). Marinade with bottled black bean and garlic sauce (available at the Asian food section of most supermarkets).
2) Cut fresh shitake and oyster mushrooms into small pieces. Leave enokis whole, but cut away the dirtier root section.
3) Saute the shitake and oyster mushrooms in a pan with chopped garlic and ginger for a minute. Add a few teaspoons of cooking wine (mirin, chinese cooking wine, sherry, etc), chicken stock, soya sauce and sesame oil and simmer for 3 minutes. Add enoki mushrooms to the mixture in the pan and cook a further 3 minutes till the enokis just soften and wilt.
4) Steam/bake fish fillets till just cooked through (4-8 minutes depending on size of fillets).
5) For individual servings, lay a portion of shitake and oyster mushrooms on a plate, spoon cooking liquids over. Place a piece of fish over the mushrooms and top off with a small bunch of enokis to garnish.
Technorati tags:
food and drink
,
food
,
brisbane
,
food blogs
,
slow food
,
kitchen expeditions
,
fish dish
,
shitake
,
black bean
,
asian cuisine