Eating out:
This is one of the more back-dated articles that Bev and I have been holding off writing for a while. We visited the very quaint and charming
Sprout Cafe
in Auchenflower several months ago with rather high expectations in mind, given that it is a 1-star rated restaurant in The Courier-Mail GoodLife Restaurant Guide 2006. Service was prompt and courteous, but tragically, the food that we received left much to be desired, to put it very politely and politically.
Here's why: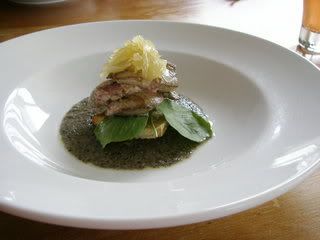 Sauteed duck livers, mushroom puree and caramelised onion.
The duck livers were rather well cooked, with the middles still juicy and pink as they should be. However, the crouton that they sat upon was dry and stale, suggesting that it had been cut a considerable time before service and left out in the open to become stale, rather then freshly cut and toasted. The puree was earthy and flavourful, but just couldn't save the rock-hard crouton from blemishing the entire dish. Furthermore, the onions could have been further caramelised to render much more flavour and sweetness accociated with caramelised onions.
Crispy soft-shell crab with a Thai style salad of apples and wood ear fungus.
I have to compliment this one dish; it was the only good dish that we sampled on the day we visited. I particularly loved how they ingeniously incorporated crunchy wood ear fungus into the tart salad. That was a first for Bev and myself, and we truly appreciated that addition. Other than that, it was a perfect example of a well executed but run-of-the-mill dish which I feel that food establishments here do way too much of.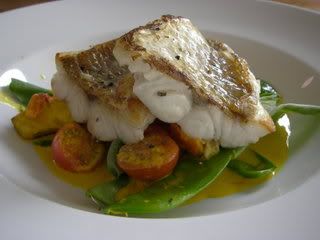 Grilled crispy skinned snapper with pumpkin gnocchi, string beans and saffron cream sauce.
It really pains me to say something ugly about anyone's cooking, considering I myself have what people in the industry term "the cook's pride". But when it came to this dish, it almost seemed as if the chefs had completely abandoned the restaurant, leaving behind
god-knows-who
to do the cooking.
For everything that I could possibly fault in the dish, I actually did. For starters, the skin on the fish was far far far from being crispy. To top things off, there were actually scales left on the skin of the fish; not one or two, but a whole mouthful! It was almost impossible to eat. Then came the string beans; the tough, fibrous 'strings' were not even removed, and I had to embarrassingly spit out a wad of half-masticated fibre to avoid consuming it. Then the sauce: it was watery and completely unseasoned. Yes, I know 'completely' is a very strong word, but I stick to my guns when I say that the sauce was completely unseasoned. At that point, I didn't even bother trying to rescue it by spiking it with table salt. I ended up finishing less than half of it.
Crispy duck leg confit with lentils and sweet potatoes, eggplant chutney.
Again, what was claimed to be crispy was not crispy, and by now we were pretty certain that
god-knows-who
was indeed cooking in the kitchen. The lentils were obviously made in bulk, and tasted 'over-overnight'. The eggplant chutney was bland, and so was the rest of the dish to be honest. The duck itself tasted as if it was, dare I say it, microwaved.
Usually when a nice waitstaff comes along afterwards and asks "How was the meal?", I would normally reciprocrate the kindness and reply with something positive that I can think of. However, on this occassion I simply looked disappointingly at him and pointed out the fish scales and bean 'strings' left on the edge of my plate. I think he got the hint.
Sprout Cafe
111 Haig Rd
Auchenflower
Brisbane
Tel: (07) 3870 3030
Technorati tags:
Food and Drink
,
Food
,
brisbane
,
food blogs
,
slow food
,
restaurant reviews
,
food outings
,
brisbane dining
,
brisbane restaurants