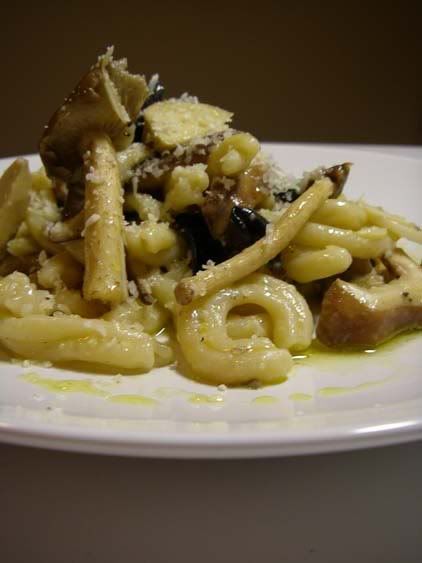 Just a short entry today. Its getting late, and there's heaps to do in the morning. So, what we have here is a pasta dish that is so simple to make, provided you can find the right ingredients.
It's such a pity that wild mushrooms are rare here in Australia. Thats probably the reason why I often visit farmers markets. Its only in these places that you actually stumble upon rare gems such as wild mushrooms. These, like many of my other ingredients, were purchased from the Jan Powers Farmers Markets in New Farm.
The flavour of fresh wild mushrooms is second to none. It sure beats the hell out of those button mushrooms found on supermarket shelves. Trust me, one taste of wild mushrooms and you could be a life-time convert. On this very day, I had in my shopping bag a mixture of king oyster mushrooms, shitake mushrooms, trumpet mushrooms and fresh black wood ear fungus (not quite as foul as it sounds).
I have to admit that I'm quite a purist when it comes to mushrooms. I'd only ever cook them with a permutation of the following ingredients: butter, garlic, shallots, white wine, bacon, truffle oil, certain cheeses, parsley, chives, tarragon, black pepper. Cooking mushrooms with any other ingredients outside of those listed would require long, hard thinking on my part.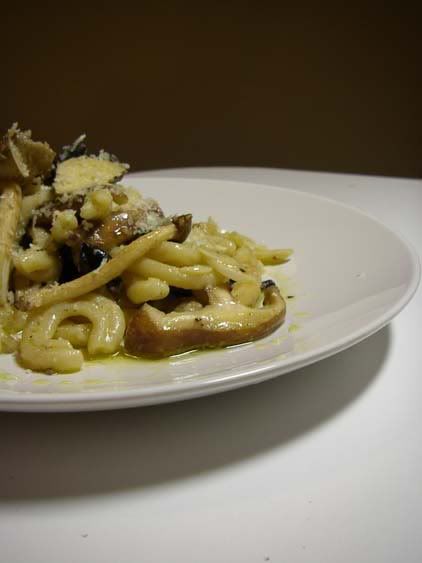 So as expected, I made a 'ragout' of the mushrooms with a combination of the above ingredients. First I sauteed the mushrooms with garlic, Gympie Farm butter and salt. Then I took them off the heat when they were barely done, and reserved them on a plate. Then I deglazed the pan with white wine, and added some porcini stock (I used a porcini stock cube). I then returned the mushrooms to the liquids and turned the heat down to low. Next, I folded in cubes of cold butter to the sauce to create an emulsification (the French call that technique "Monte au Beurre"- to heighten with butter).
A ragout, strictly speaking, is a rich stew of meat or fish. However, this funghi dish is so earthy and 'meaty' that it would be a no more than a small crime to call it a ragout. Either way, I doubt the Food Police would be coming round to arrest me anytime soon, so a ragout it is!
The pasta of choice- casarecci, short lengths of rolled and twisted Italian pasta. I admit its not an ingredient you'd find everyday at your local IGA, but you could just as easily substitute it with other fresh pasta shapes such as fusilli or farfalle. So these get cooked, and then tossed through the ragout with some grated pecorino or parmesan (I used pecorino), and a good dash of truffle oil.
Oh, and one last word from me: Please never ever overcook your wild mushrooms. They should only be cooked very briefly. You DO NOT need to cook them till they wilt and start oozing out liquids. That, to me, is pure injustice done to fine ingredients; something that may make the old Food Police really come knocking on your door for.
As always, enjoy!
Technorati tags:
Food and Drink
,
Food
,
brisbane
,
food blogs
,
slow food
,
kitchen expeditions
,
Cooking
,
wild mushroom
,
farmers markets