Eating out:
Bev and I had gone on a quest to dine at every one of Brisbane's 3-star restaurants, as rated by the 2005 & 2006 Courier Mail Goodlife Restaurant Guides.
Restaurant Two
was one that we had yet to dine in.
We walked through the doors with high expectations; this was driven by the fact that out of the numerous restaurants in Brisbane, only 5 are awarded 3-stars, and Restaurant Two is one of these elite 5.
Upon ordering the degustation menu ($110pp), we sat back and let the night unfold: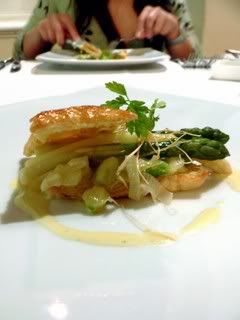 Feuillitine of Queensland Asparagus and Leeks, smoked garlic and thyme butter-.
A rectangle baked puff pastry, split open and filled with leeks, green and white asparagus. The vegetables were perfectly cooked. The garlic and thyme butter sauce was the highlight of the dish, but I somehow wished I had a bit more of it on my plate to spread on my puff pastry. Nice start to the meal though. Expectations at this point, I must say, were still relatively high.
Seared Hervey Bay scallops and Mooloolaba tuna, green paw paw and Thai spiced dressing.
I personally felt that this dish was a complete waste of time. Unfortunately, the tuna was overcooked for my liking, the scallops undersalted (or not even salted at all), and the salad uninspiring. To make things worse, the "Thai spiced dressing" was diluted and weak, and flowed on the plate like water. As I sat there, I suddenly began to have doubts about what was to come.
Sauteed organic potato gnocchi, confit of Tetsuya's ocean trout, goats cheese, trout roe, preserved lemon butter.
Now, this dish was good, despite a few ups and downs. The gnocchi was a little on the firm side, but the tasty caramelisation on the surface made up for that. The confit was, in my opinion, done very brashly. I have been to Tetsuya's and eaten the 'original' version, and this was no where close to it. The intention behind the trout confit is that it barely cooks, changing the texture a little, but not the colour whatsoever. As you can see from the photo, due to overcooking, the proteins had actually been allowed to coagulate, changing the colour of the raw trout to an opaque pink. However, based on taste alone, this dish was fantastic; the goat cheese and
ikura
, a perfect compliment to the fish. Had it not come with the labels 'Tetsuya's' and 'confit', I would have given it a 9/10 instead of an 8.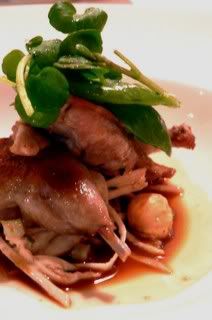 Roast breast and confit of Rannoch Farm quail with celeriac remoulade and Madeira jus.
Nothing much to complain about this dish. I thought the quail was cooked perfectly, with a little spot of pink on the inside. It was juicy, savoury, and went really well with the remoulade.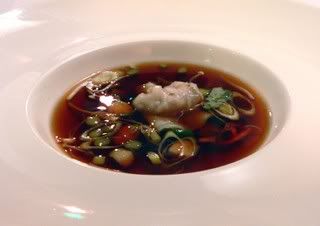 Peking duck consomme, duck, pork and prawn tortellini.
This dish was not on the degustation menu. Because Bev was so keen to try it when she overheard it being recommended to the next table, we asked our friendly wait staff if he could somehow slip in an order of that duck consomme between our remaining courses. Ten minutes later, two degustation sized bowls of consomme arrived at our table! The consomme was served with small bits of duck meat and prawns, and a petite duck and prawn dumpling. It was a fairly refined dish; but is it just me, or have all the consommes I've had in the last 6 months been way too salty?
Crab risotto with lobster oil.
We have a winner! I adored this dish from the first bite till the last grain. The risotto was chock-full of crab meat; and from the taste alone, it was obvious that the crab meat was freshly picked, rather than out of a can (some restaurants are actually guilty of that). The rice grains were cooked spot on, the lobster oil intensely fragrant and the baby arugula fresh and crisp. I would come back to Restaurant Two again just for this dish.
Asian barbequed duck, steamed greens, fig and chilli jam, spicy cumquat sauce.
I've always been a bit skeptical about dishes that sound like that. The problem is: I'm particularly familiar with authentic Asian food, and have actually become quite a purist in that area. Thus, I'm not too enthusiastic on such dishes that attempt to 'modernise' Asian food. But being the open-minded individual that I would like to think I am, I eagerly shoved aside these reservations and dug in. The sauce was lovely, the fig and chilli jam even better, but as good as the duck was, I'd much rather be caught burrowing my face into Golden BBQ's (Fortitude Valley) authentic barbequed duck on any given day.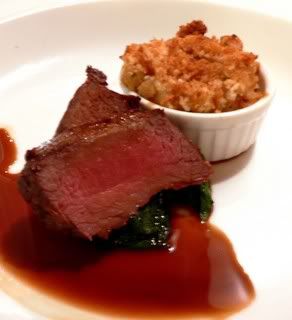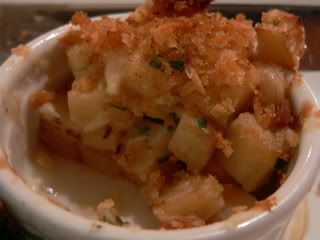 Rare seared 'Cervena' venison, parsnip, leek, white bean and foie gras crumble, buttered spinach, morels and bitter chocolate sauce.
The idea was there, but unfortunately, something got lost in translation. As you can see, the venison was nowhere near 'rare seared'. The crumble did not taste of
foie gras
at all, and it was a little too dry on the inside.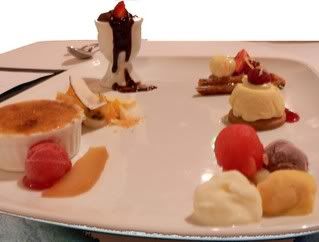 Assiette of miniature desserts.
We waited 35 minutes for this. It eventually came on a huge platter, with a selection of 5 baked goodies and at least 5 flavours of sorbet and ice cream. There was a Belgian waffle, a creme brulee, a chocolate pudding, a cheese cake with fresh coconut, a lemon tart and a fruit salad. Although I especially loved the fig sorbet, Bev and I agreed that everything else was rather ordinary.
What can I say. Dinner at Restaurant Two didn't knock my socks off as much as I would have liked it to. Did I set my expectations too high? Even if I did, I had every right to, given their reputation and 3-star rating. The whole meal was a rollercoaster of hits and misses. I would graciously suggest that Restaurant Two focuses a little more on the finer details of their food in the future; and for their sake, I sincerely hope that my ordinary dinner experience was just a one-off, rare occurance.
Restaurant Two
2 Edward Street
Brisbane
Tel: (07) 3210 0600
Technorati tags:
Food and Drink
,
Food
,
brisbane
,
food blogs
,
slow food
,
restaurant reviews
,
food outings