As you would have realised by now, I have this 'thing' for tender, juicy Wagyu beef. Here in Brisbane,
Village Meats
at Rosalie Village is such a place where you can find some good cuts of this pink gold.
Village Meats is a fantastic one-stop-shop for all your carnivorous cravings. On any given day, you may find yourself walking in to the delightful aroma of bacon being smoked with applewood chips, or like on the day we were there, lamb loins being smoked with cedar. The good people at Village Meats stock all kinds of meats, and as with other good butchers, are more than happy to entertain special requests from customers. This outlet also happens to be one of the few gourmet butchers in Brisbane to officially supply Bangalow Sweet Pork to the public. (More on Bangalow Pork in a coming post).
This day, we were after a hit of Wagyu beef. Unfortunately, we were not particularly spoilt for choice; only rumps and sirloins were on offer at the time. We opted for rump ($49.99/kilo), and headed across the road to
Rosalie Gourmet Market
to purchase some cheese to make an accompanying potato gnocchi.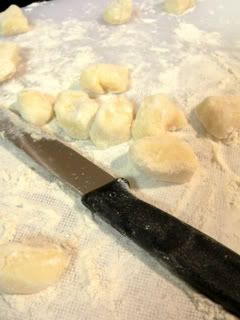 We were kindly recommended a Capriconia goats cheese as an alternative to the conventional parmesan/pecorino for making the gnocchi. We were also offered a great tip on cooking gnocchi by the cheery lady assisting us (pity we didn't get her name): Drop a couple of fresh sage leaves into the potato boiling water to infuse a subtle hint of sage flavour to the gnocchi.
The final dish: Wagyu rump with goat cheese gnocchi, porcini mushroom ragout and wilted spinach, sprinkled lightly with Murray River salt flakes.
Technorati tags:
Food and Drink
,
Food
,
brisbane
,
food blogs
,
slow food
,
kitchen expeditions
,
Cooking
,
wagyu beef
,
gnocchi
,
fennel