I was browsing along the fresh fruits and vegetables section in Woolworths when the glistening red and green chillies beckoned. I just had to grab a bagful of each. They looked so plump and fresh, a far cry from the limp and embellished ones that I always come across at other times. So I decided I was going to make me some Pickled Green Chillies and try my hand at making
Achar
.

Achar is the Southeast Asian take on pickled vegetables (and fruits) marinated in spices, vinegar and oil. The Penang or Nonya Achar essentially consists of cucumbers, carrots, cauliflowers, pineapples and stuffed green & red chillies marinated in a spicy concoction. I headed to Bjorn's and sought assistance from the numerous cookbooks in his humble library, on making Achar. Decided on a recommended recipe from Bjorn's folder of his personal collection; recipes collected from his kitchen stints.

It's a surprisingly simple recipe although I tweaked it a little; added tumeric powder, a tiny knob of ginger, one small clove of garlic, a few dried chillies and a mixture of toasted & part-ground sesame seeds and granulated peanuts. The vegetable medley of choice: cucumbers, carrots and sugarloaf cabbage.

Cucumbers are essential in Achar. It's the 'lamb' in Roast Lamb, and the 'duck' in Duck Confit. You get the point. But you can always substitute cucumbers with jicama or omit the cucumber element entirely and have the carrot (or jicama) as the base vegetable. Play around with the combination of vegetables, altering it according to your preference.

This time however, I omited the cauliflowers, pineapple and stuffed green & red chillies. The first two, I accidentally overlooked when shopping; and the latter, well, they don't carry such Asian condiments at Woolworths, so I gave them a miss. Surprisingly though, they do sell fresh galangal and tumeric. I bought a substantial sized galangal though the recipe called for an inch worth. The rest of the root will definitely come in handy for various other Southeast Asian recipes such as Tom Yam Goong, Laksa and the various Thai curries that calls for the root. It is rampantly used as one of the primary ingredients for spice bases in Southeast Asian cooking.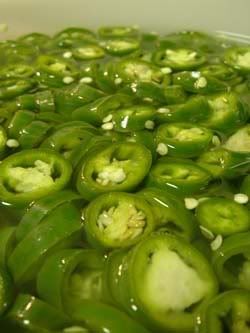 Pickled green chillies are typically served as a side condiment with most South East Asian Chinese dishes. There would usually be a small dish of these little tangy beauties placed on the table before the start of the meal. These pickled green chillies are best eaten with cooked dishes as oppose to adding them into the cooking process, as with most other pickled vegetables.
Pickling the green chillies was a breeze. I 'jump started the pickling process by boiling the white vinegar and sugar mixture. Then I added the hot mixture to the bowl of sliced green chillies and let it stand, covered for about an hour or so. After it cooled, I placed them in plastic air tight containers (or glass jars) and stored them in the fridge. Usually my stash would not last for more than a month. These pickled green chillies go well in sandwiches, pizzas and even with Mexican dishes, especially Chilli Con Carne. Definitely a good subsitute when a recipe calls for pickled jalapenos.
Technorati tags:
Food and Drink
,
Food
,
brisbane
,
food blogs
,
slow food
,
kitchen expeditions
,
Cooking