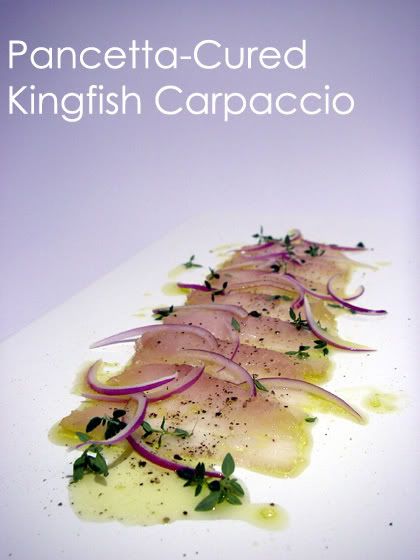 Most of us know pancetta, the famous Italian version of bacon, which is essentially pork belly that has been salted and spiced, and left to dry for around 3 months. But which of us would have thought of making pancetta with fish?
Well, thanks to the the ingenuity of Melbourne chef, Matt McConnell, the brains behind
Bar Lourinha
, I've had the joy of making this myself. The recipe for this dish appeared in the September 2006 issue of the Australian Gourmet Traveller, and I've been wanting to make it for the longest time, except that I couldn't find any decent kingfish around Brisbane. Or maybe I just wasn't looking in the right places.
Anyway, John West, the household name known best for tinned salmon, has recently released a range of packaged fresh seafood for Coles supermarket shelves. Within the range I found yellowtail kingfish, one of those wonderful foods that I've been hunting down for ages. In a snap, I bought a pack, and raced straight home to finally make this dish that I've been dreaming about for months.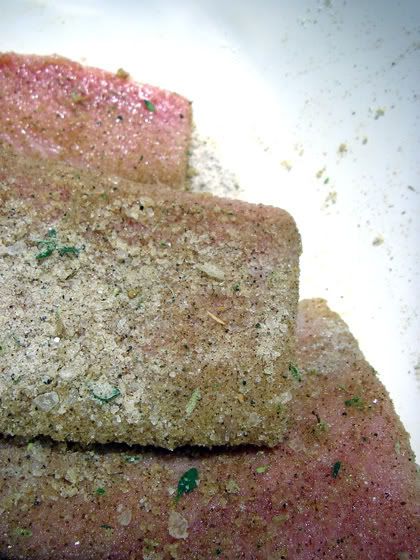 Kingfish Pancetta

400 gm piece of yellowtail kingfish, skinned and boned

'Pancetta' spice mix:
165 gm sea salt
3/4 tsp sweet paprika
1/4 tsp each of ground allspice, ground cloves and ground cinnamon
1 tsp finely chopped thyme
1 tsp ground black pepper
1 tsp sugar
Mix all ingredients for spice mix in a large bowl. Roll fish in spice mix and wrap in plastic wrap. Refrigerate for 4 hours, then unwrap and pat dry with absorbent paper. Wrap fish in muslin cloth (you can use kitchen towels or paper towels) and continue to refrigerate overnight or for up to 4 days. The flavour will develop and intensify over time.
Before I sliced my fish, I rinsed it with water to remove the excess salt. This was not specified in the original recipe, but I found it too salty initially when I didn't rinse it first. Using a sharp knife, slice kingfish very thinly on an angle. Arrange slices on a plate and drizzle with extra virgin olive oil and lemon juice. Scatter with any kinds of herbs or greens as you wish. Here, I have used thyme and sliced red onion, which works very well with the saltiness of the fish.
If you can't get you hands on kingfish, I reckon salmon would be a decent alternative. Just make sure its really fresh, and not looking like those sad one that seem to have been stepped on (quite a common scene at supermarket seafood counters).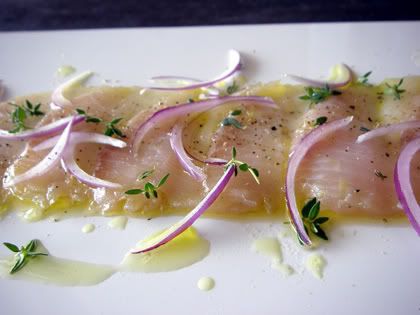 This dish makes entertaining a breeze- just slice up the fish in advance, lay it on a large platter, and scatter over the greens. When your guests arrive, simply drizzle over the olive oil and fresh lemon juice. Crack some pepper over the top and pass around with toothpicks. Everyone will be grinning, I guarantee you that!
Technorati tags:
food and drink
,
food
,
brisbane
,
food blogs
,
slow food
,
kitchen expeditions
,
seafood
,
hamachi
,
hiramasa
,
yellowtail kingfish
,
curing
,
pancetta
,
carpaccio
,
thyme
,
red onion