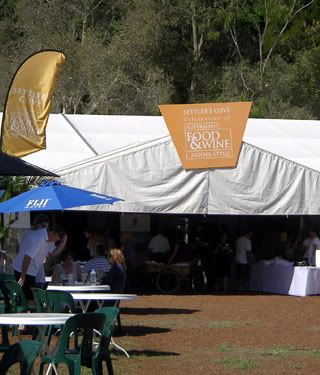 The Grand Marquee
Finally the day had come! We were in Noosa, and the weather was perfect. It was the day we had all been anticipating. The Saturday of the Settlers Cove Celebration of Australian Food and Wine Festival. And what a mouthful that was, in both senses of the word.
It truly was a day to remember, and although we did not participate in any degustation dinners or guest chef cooking masterclasses (we did not have the budget for it), we were fortunate enough to have been able to participate in the culinary exhibition and food and wine tastings in the Grand Marquee at Lions Park.
Our day began with cooking demonstrations by celebrated chefs from all over Australia. Chefs Giovanni Pilu and Matt Moran were the two that I was particularly keen on seeing. And so it was. Chef Pilu teamed up with Chef Phil Scott, Head Chef of Pilu in Noosa, to prepare classic Italian dishes such as grilled sardines and tomatoes on bread, and pasta Amatriciana. Matt Moran was scheduled to present together with Fifteen Melbourne chef, Tobie Puttock, but ended up doing a solo while Tobie couldn't be present. He cooked up some fried calamari and a tuna nicoise salad, both recipes from his book. What better a way to gain publicity than that! We were all impressed by the tips and tricks he shared throughout the session, like his 2 minute 20 second quail egg technique for perfectly soft yolks.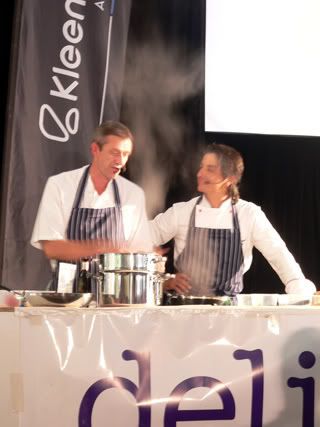 chefs Phil Scott and Giovanni Pilu preparing classic Italian fare
pasta Amatriciana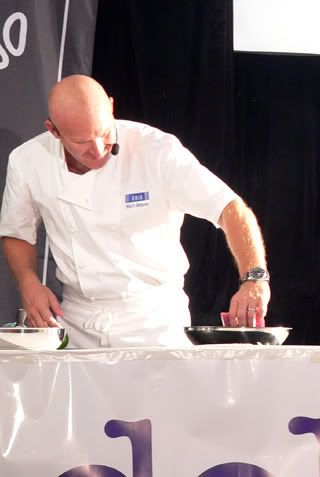 chef Matt Moran of Aria, Sydney
seared tuna Nicoise
We then adjourned to the exhibition areas where we exchanged food coupons for plates of food prepared by chefs of local Noosa restaurants. Wonderful smells permeated the entire venue, and took us in all directions, going wherever the aromas seemed to originate from. We found ourselves indulging in orange crusted prawns with goats cheese and fresh peas, flash grilled Mooloolaba baby calamari drizzled with chilli oil and lemon aioli, and rotolos filled with Gympie Farm goats curd, rocket and mushrooms, topped with a decadent sage butter sauce.
at the food stalls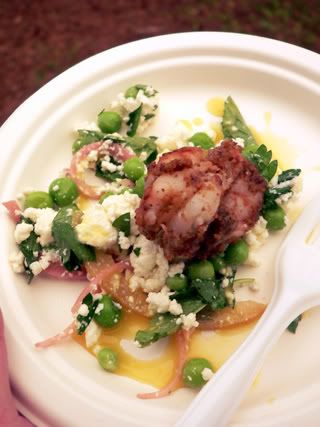 orange crusted prawns with goats cheese, fresh peas and mint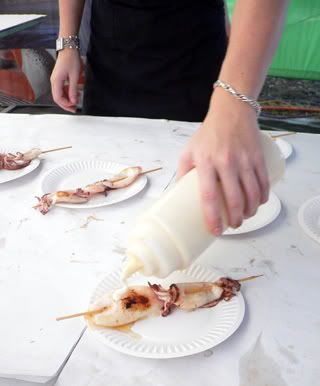 squeezing lemon aioli on grilled baby calamari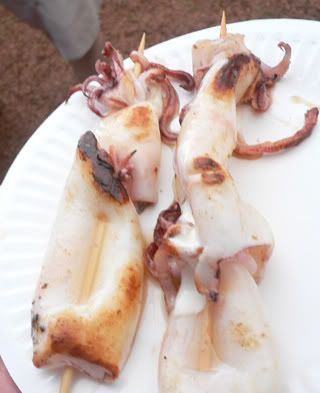 flash grilled baby calamari from Mooloolaba, sweet and succulent- one of the best I've tasted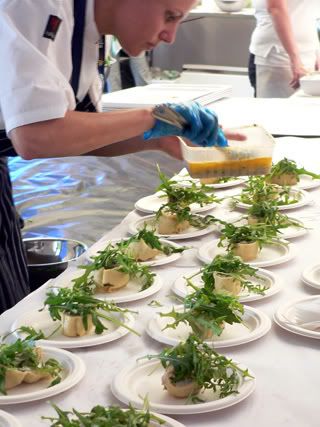 pasta rotolo filled with mushrooms, rocket and goats curd, drizzled with sage butter
It was a fantastic day, and we even had time to head to the beach after the festival had wrapped up. This is the kind of day that I live for, and I'm certainly looking forward to next year's festival.
Technorati tags:
Food and Drink
,
Food
,
brisbane
,
food blogs
,
slow food
,
restaurant reviews
,
food outings
,
australian restaurants
,
australian restaurant reviews
,
brisbane dining
,
australian food and wine festivals
,
food and wine festivals
,
festival review
,
sunshine coast
,
noosa