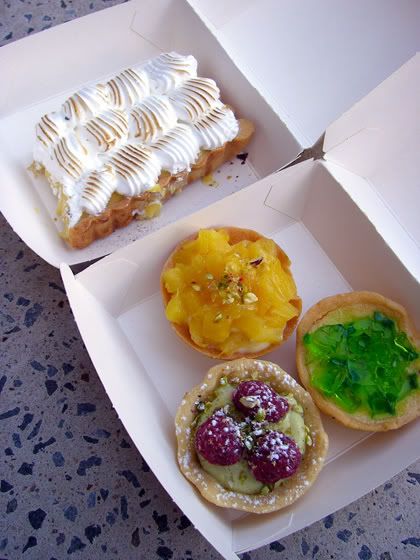 After being at the helm of the Queensland dining scene with his restaurant
Absynthe
, 2 Michelin Starred chef Meyjitte Boughenout opened
Absynthe Bakery
on Bastille Day in 2006. Located in the new complex, Circle on Cavill, Absynthe Bakery aims to "bring quality bakery goods to the heart of Gold Coast".
We decide to drop by Absynthe Bakery while in the Gold Coast to see for ourselves if their pastries were as good as they were claimed to be. We arrived a little late in the day, and so the selection had dwindled to the remaining 7 or so varieties of tarts and cakes left in the display. I was initially very tempted to try the vanilla brioche, but decided against it, seeing that it had been left out at room temperature for what I think would have been a good part of the day. Another time perhaps, if I can get there early enough to sample it while its at its peak.
So we ended up ordering 4 types of tarts between us, and we all eagerly joined in the tasting. This is what we sampled: a passionfruit curd and meringue tart, a caramelised pineapple tartet, an apple jelly tartet with caramelised apples, and a raspberry and pistachio tartlet. It was unanimous, we all voted the sour passionfruit tart with the sweet, silky meringue as our favourite of the 4 pastries. The pate sucre (sweet shortcrust pastry) was a perfect balance of crunchy and crumbly, while the passionfruit curd was just as sour as I think sour curds ought to be.
Now I really have to come back soon to munch on that enticing vanilla brioche. I bet its darn good too..
Absynthe Bakery
Circle on Cavill
Surfers Paradise Boulevard
Gold Coast, Queensland
Tel: 07 5504 7114
Technorati tags:
Food and Drink
,
Food
,
brisbane
,
food blogs
,
slow food
,
restaurant reviews
,
food outings
,
bakery