Isis Brasserie
is one of the places in town that I would recommend anyone to go to for some seriously good food. Chef Jason Peppler and his team have, in the past, provided Bev and I with some of
our top dining experiences here in Brisbane
. For all you food lovers out there, you might like to know that they're running a special degustation menu exclusively for the months of May and June. I have attached the
degustation menu here
. The menu costs $95 for 9 courses of food, and $155 for food and matching wines.
The feature of this degustation is duck. And my oh my, these people really know how to turn the feature ingredient inside out, manipulating the humble canard into shapes and forms that go beyond our immediate expectations. Lo and behold, duck neck skins, duck eggs, duck livers, duck wings, duck blood, and the entire duck works found their way onto our plates in the most refined and elegant manner.
There was an
article in The Age about the dawn of the degustation menu age
, and how these dining styles ought to be tools for chefs to showcase their talents and the quality of their ingredients. I completely agree that the chefs at Isis have done precisely that. Even my dining companions agree that they could, I quote: "taste the skill that went into the food".
I apologise for the shoddy photos. I normally have trouble taking photographs at Isis because of the combination of the following 3 factors: 1) I'm still an amateur photographer, 2) their lovely mood lighting makes for a photographer's nightmare, and 3) I just want to dig in as soon as possible, the aroma of duck is way too irresistable to hold off for too long.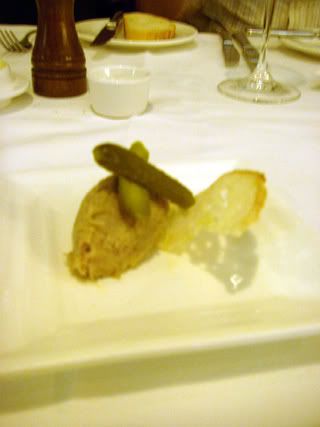 Canape: Duck and pork rillettes, sour dough crostini and cornichon
Cappuccino of duck with porcini mushroom powder- my favourite course of the night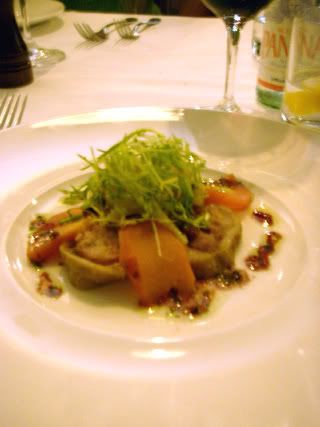 Duck neck sausage (in the style of a galantine), with a salad of quince, apple and pistachio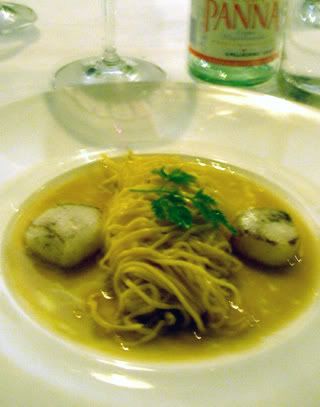 Duck egg pasta, seared Queensland scallop and sauce albuferra- I lapped up every last drop of the gorgeous sauce
Duck liver on brioche, crisp proscuitto and sauce soubise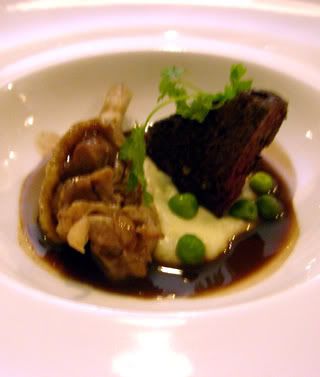 Civet of duck wing, home-made duck black pudding, peas and smooth potato puree
Sorbet: Lemon and star anise- I personally loved this combination of flavours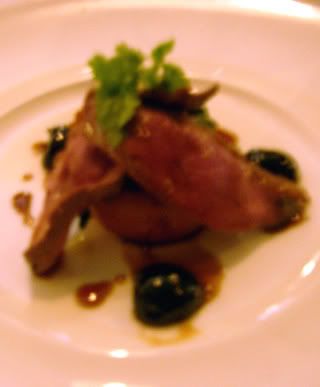 Seared duck breast, sweet potato fondant and Amarena cherries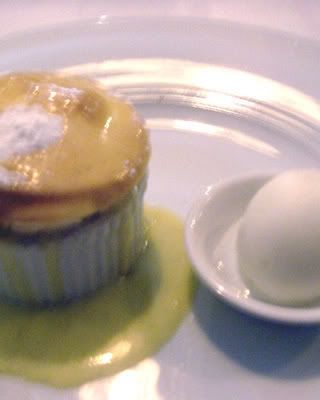 Lemon scented souffle (probably made with duck eggs), white chocolate sorbet
We were highly impressed with most of the dishes on the menu. In our opinion, there were 2 dishes that fell a little under the mark though. We all agreed that the duck liver was slightly overcooked, and the dessert way too sweet. But yet again, in their defence, these are all mistakes to do with the food preparation on the day itself, rather than with the core concept of the dishes. Hopefully, these glitches won't occur when its your turn to dine there!
You need to book the duck degustation menu in advance should you wish to treat yourself to this all out duckfest. I suggest you buzz them real quick as this menu only lasts for a few more weeks!
Isis Brasserie
446 Brunswick Street
Fortitude Valley
Tel: (07) 3852 1155
Technorati tags:
Food and Drink
,
Food
,
brisbane
,
food blogs
,
slow food
,
restaurant reviews
,
food outings
,
brisbane dining
,
duck
,
degustation
,
duck egg
,
pasta
,
rillettes
,
porcini
,
soup
,
duck liver
,
black pudding
,
star anise
,
lemon
,
souffle