Giovanni Pilu, Chef/Owner of Pilu at Freshwater in Harbord, Sydney, is my definition of a true maestro. Hailing from Sardinia, Italy, Giovanni brings to Australia a hearty slice of rustic, regional Italian cooking. Dining at his acclaimed 2 chef-hat restaurant is by far my most memorable and unforgettable dining experience. Mind you, I'm a grown man, but may I say that reminiscing my experience at Pilu is almost an emotional thing for me? Well without going any further, I think it is pretty obvious by now that I just can't seem to run out of good things to say about this man and his food.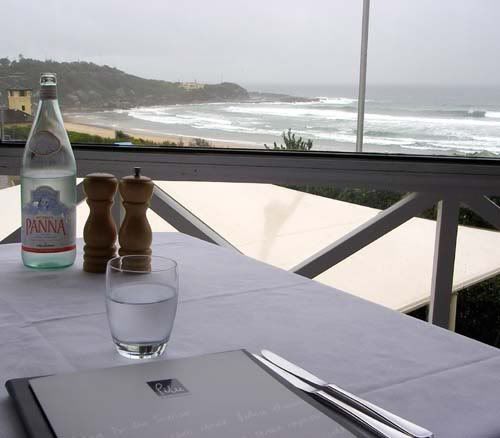 The restaurant is set in a wooden cottage overlooking the sea at a quiet little beach called Freshwater, in the suburb of Harbord, on the North shore of Sydney. Bev and I took a ferry to Manly, then a 10 minute taxi ride to arrive at the restaurant. From the moment we entered, we were completely charmed by the restaurant's marvellous view of the bay, rolling waves and blue skies. It was the kind of place that made you never want to leave. Lunch on that weekday was a casual affair, with just about 6 or so tables being occupied. This meant that we could get a seat right next to the huge windows overlooking the beach- perfect.
Bev and I didn't want to look like pigs, so we just ended up ordering 4 entrees and 1 main course between the two of us (what irony). And in true Italian hospitality, we were delighted to have the waitress offer to ask the kitchen to split each dish into two portions for each of us, and then plate them seperately, so we didn't have to share off a single plate. It was the first time that any restaurant had gone that far out of its way to please me, and I was honestly touched by that gesture.
So here's how the magic unfolded:
Sauteed prawns with fregola, tomato, garlic and chilli
Fregola, a type of Sardinian couscous-like pasta, was paired with fresh, sweet prawns simply cooked with garlic, cherry tomatoes and a touch of chilli. It was well seasoned and well balanced. This dish spoke of pure simplicity and sensitivity. It set the tone for the rest of the meal, and gave us a good indication of things to come.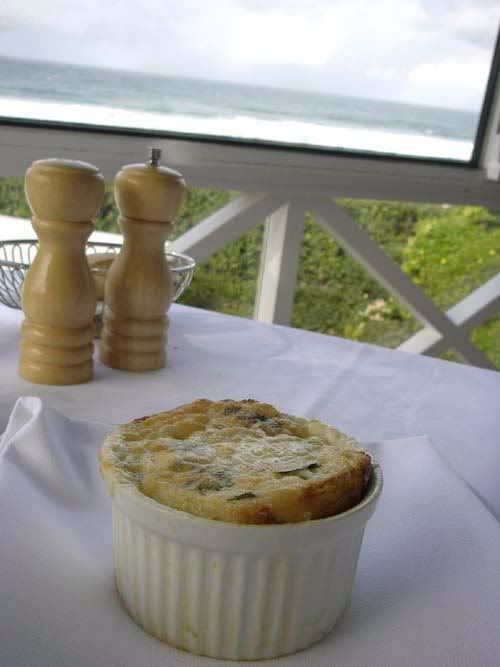 Bread baked in lamb broth with pecorino
It arrived piping-hot and bubbling at our table, fresh from the oven obviously. Thick, crusty slices of bread layered with pecorino cheese and fresh basil, drenched with fragrant lamb broth then baked in the oven was the simple idea behind this down-to-earth dish. But yet again, we were stunned by its heartiness and warmth. To best describe the experience of eating this would be to compare it with eating a steaming bowl of chicken soup on a cold, rainy day. Who would have thought that soggy bread could be so heart warming! Bev had to literally stop me from nibbling the crusted cheese off the rims of the ramekin.
Rabbit and porcini mushroom ragu with hand rolled pasta and more pecorino cheese
Slow food at its best. Due to past less-than-desirable experiences at some restaurants, I'm not a big fan of rabbit. But boy, was that a moment of revelation for me. The meat was melt-in-the-mouth tender, and had absorbed the musty flavours of the porcini mushrooms. The rich, tasty braising liquids of the ragu that coated the pasta complimented it perfectly. And with the generous shavings of pecorino on top, what could be better?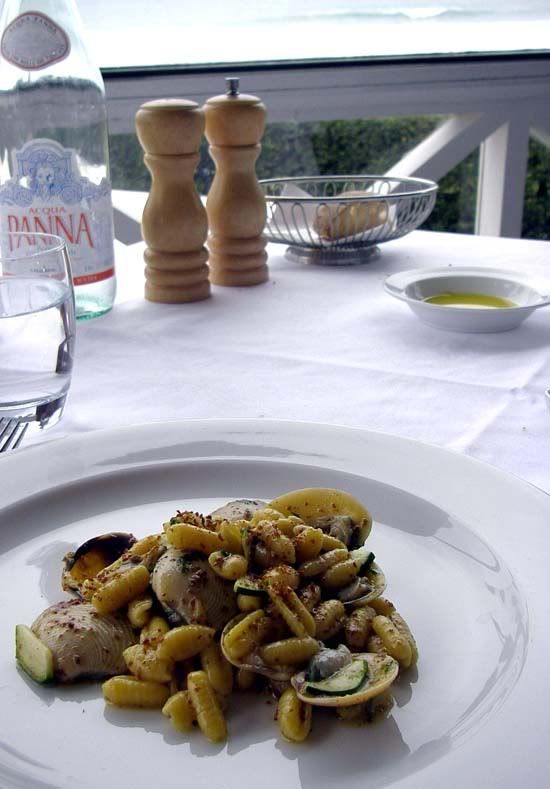 Gnocchetti Sardi (Sardinian pasta) with grated bottarga, vongole and baby zuchinni.
I groaned with delight after my first mouthful of this. Prior to this, I was wondering how much better the meal could possibly get, considering that Bev and I were already highly impresssed with the past 3 courses. This 4th dish just broke the record. It was so darn good. How many more ways could a man express that something tasted good? Gosh, it was the epitome of 'delicious'! No single clam shell was left unsucked of the lovely grated bottarga and garlic that cling to it. The most enjoyable part of this dish was when a piece of pasta got lodged in a clam shell together with the clam; then you'd unglamourously pick it up and suck out the insides to savour every last morsel. I almost wanted to sneak around the corner to lick my plate; eventually, social graciousness prevailed and I ended up asking for more bread to wipe the plate clean instead. Till today, the taste of this dish still lingers fondly in my memory.
Oven roasted suckling pig with apple sauce
According to the friendly waitress, this was a national dish highly representative of Sardinia, and a signature dish of chef Giovanni as well. The animal used to cook this dish was to be no older than 7 weeks of age, only to be fed on the milk of its mother and nothing else. I could see why. The skin/crackling was thin as a pappadum, and roasted to a perfect crispiness. The meat itself was juicy and very tender, and in true rustic Italian fashion, roasted whole and hacked up into portion sizes later. I have cooked such suckling pigs before in my career, and in the same manner, but this is the first time that I've sat down to enjoy a huge portion of it all to myself. The cracking was the best part of the dish, obviously, and I firmly agree that such delicate crispiness can only be acheived with a young animal of that age and no older. Eating this was a pure joy, and I hate to say it, but I think that was the best piece of roasted pork I've had, ever.
Hot chocolate puddings with coffee wafers and vanilla mascarpone
By this point, Pilu had already won my vote for 'best meal of the year'. But he was relentless and wouldn't stop just there! He continued to serve us what I believe to be, dare I say it, the best chocolate pudding I've ever had!
These things go by many names in restaurants: chocolate fondants, molten chocolate puddings, soft-centred chocolate puddings, etc. But whatever you wish to call them, I stand firm when I say that Pilu has the BEST blooming version of this ever-popluar restaurant dessert. They were served with coffee flavoured tuile wafers that were meant to be dipped into the liquid centres of the puddings. We did just that. Then we scooped up the quenelles of vanilla mascarpone and dunked them into the middle of our puddings. We almost died.
I hereby conclude: if you happen to be in Sydney, even for a day, GO TO PILU AT FRESHWATER. The view is fantastic, the service is top notch, and the food is to die for. Need I convince you further?
Technorati tags:
Food and Drink
,
Food
,
brisbane
,
food blogs
,
slow food
,
restaurant reviews
,
food outings
,
australian restaurants
,
australian restaurant reviews
,
sydney restaurant
,
sardinian cuisine
,
italian cuisine
,
suckling pig
,
bottarga
,
chocolate