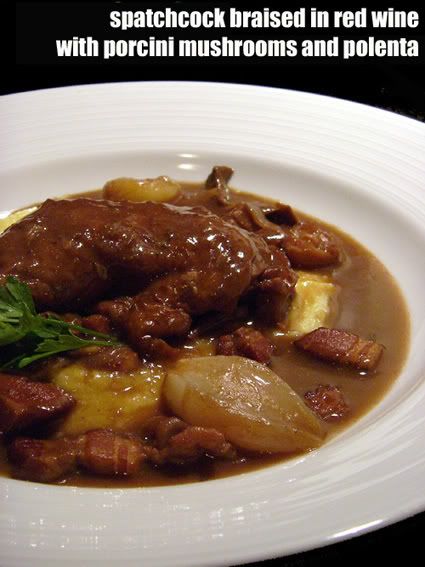 Just a little something I cooked up for dinner. I used American smoked bacon in this dish, which was purchased from
Ingredients
, a wonderful little deli in the Kenmore Village Shopping Centre (which also sells my favourite Spanish Jamon Iberico!). The spatchcock was from
Clancy James
, one of my favourite meat retailers, in Taringa.
When cooking with red wine, be sure to use a wine that you would deem as good enough to drink. Most people open a bottle of wine, find that's not quite nice to drink, then use it to cook with instead. Either that, or they think that spending the extra few dollars on a good wine for cooking is a waste of money. Truth be told, I too have been guilty of these more than once in the past.
However, costs aside, cooking does indeed condense the flavours of wines, and if you use wines that have unpleasant flavours (to you), you'll concentrate the 'bad' taste to end up with a pretty nasty final dish. So give it a try, don't scrimp on those extra few bucks when it comes to choosing wines for cooking.
Technorati tags:
food and drink
,
food
,
brisbane
,
food blogs
,
slow food
,
kitchen expeditions
,
red wine
,
porcini
,
italian food
,
barolo