Eating out:
We had heard and read much about
Lure at the Coro Hotel
. It was supposedly one of the best and most raved about seafood restaurants here in Brisbane. It even took out the awards for Restaurant and Catering Australia's (RCA) Best Seafood Restaurant in 2005, and Best New Restaurant in that same year, a testament to their committment to serving Brisbanians spectacular food. Sadly for us, when we went to Lure two weeks ago, the food was far short of anything spectacular. In fact, it was our least favourite dining experience in a while.
It was a close friend's birthday, and we were throwing her a surprise party. Her partner had decided on the venue, and Bev and I were one of the ten that would be in attendance. With much anticipation, we arrived at the restaurant before our 7pm reservation. Greeted by Nick, our friendly waiter, we were ushered to a long table which was specially laid for ten.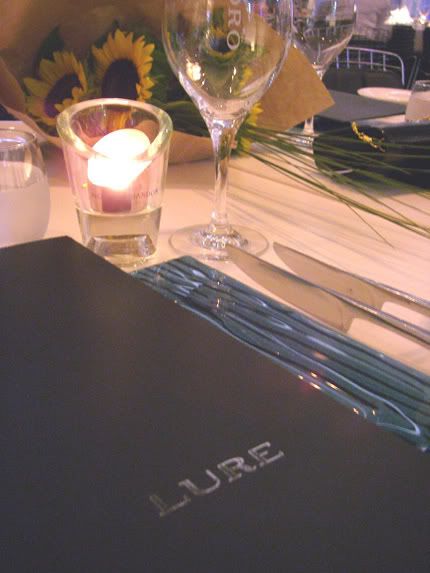 When all had arrived, and hugs and kisses had been exchanged, we decided on what to order. One of the highlights for the month of March was the Taste of Queensland degustation menu ($85), a special 7 course meal which aimed to showcase the best of Queensland produce. We confidently decided on that, then sat back and waited patiently for the food to arrive.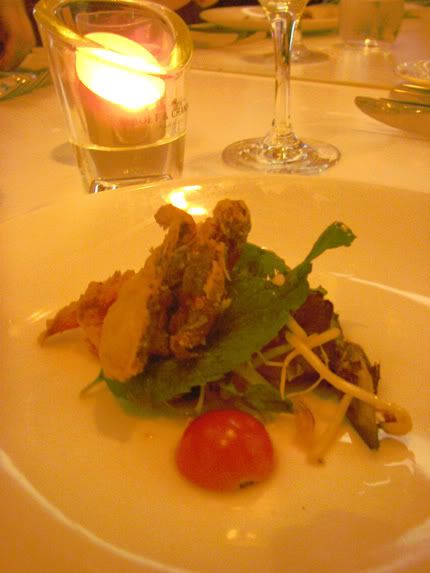 Watermark Soft Shell Crab, Caramelised Pork Hock, Asian Salad, Green Paw Paw, Nahm Jim Dressing
This was the first course: our first taste of what this coveted restaurant had to offer. And what a let down it was. The first thing that struck Bev and I was "SALT!". The fried piece of soft shell crab was so salty that we actually got salt burns on our tongues- not a good sign. And then the pork: it was very dry and fibrous, and was no where near what they claim to be 'caramelised'. In fact whole dish was very dry, and cried out for more dressing. Oh, and I do hate it when chefs put unrelated pieces of cherry tomatoes on a plate just to 'add' to the dish. Frankly, these break the coherence of the dish, and the act itself sends a signal of laziness- "Hmm... let's just chuck in a cherry tomato half while we're at it, it looks good anyway..."
Vanella Buffalo Mozzarella with Puy Lentils and Spicy Eggplant

This dish was much better than the first, thankfully. The eggplant was nicely grilled and topped off with a slice of mozzarella, then baked. It was accompanied with a pleasant mound of lentils below. Friends of ours who didn't normally fancy eggplant enjoyed this dish. However, like the previous course, it was begging for a sauce or vinaigrette or at least something wet on the plate. Without this liquid, the dish leaned a little towards the greasy side.
Hand Picked Mudcrab Angel Hair Pasta, Chilli, Shallots, Gremolata

This pasta course was very forgettable. What was supposed to be gremolata was missing from the dish.
Gremolata
is most often a finely chopped mixture of lemon zest, garlic and parsley. Here, it was not to be found. I suppose the chefs simply sprinkled chopped chives on the plate and then decided to call it 'gremolata' because "Hey, I don't think anyone really knows what's gremolata anyway.. so lets just call it that". Aside from that, this was the third dish in a row that lacked any form of moisture. There was much olive oil in the pasta, but not enough water in between to make the noodles 'slippery' as they should be; they were just dry and clumped together, sitting in a pool of oil. Technically speaking, this pasta dish was very badly cooked.
Coral Trout Fillet w Braised Fennel, Grilled Ocean King Prawns,Blood Orange Butter Sauce

Finally, a dish with a sauce! A feeling of relief swept over us as we relished the fact that after a long series of dry dishes, here was one that had some element of liquid in it. But the feeling was short lived. The fish and prawn were overcooked, and the fish felt almost as tough as tuna chunks out of a can. This is perhaps THE ultimate sin for such a self-proclaimed seafood restaurant. Dinner had hit the pits by this point. The hope and anticipation for that shining dish to save the rest of the night was fast diminishing.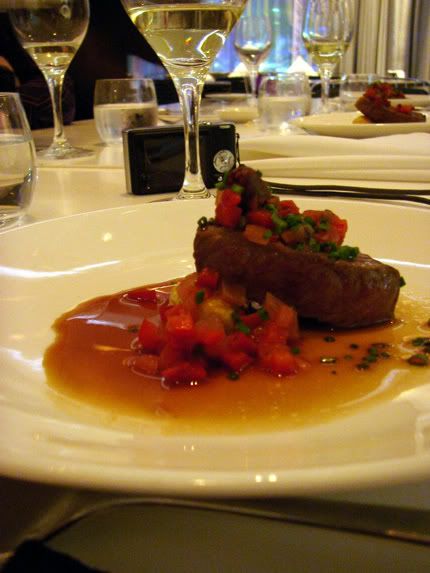 Wagyu Sirloin (Darling Downs) (Marble Score 7)
with Red Braised Vegetables, Roasted Kipfler Potatoes

The menu read 'Marbling Score 7', but when our waiter introduced the dish, he said "8". Now I don't know who's lying, but at that point, I just couldn't bother anymore. The beef was cooked medium well. It tasted uniquely buttery, like
Wagyu beef
should, but was cooked too tough for my liking. The potatoes were really good, I must say. Fancy that- the potatoes outshining the Wagyu beef.
Anyway, let's not even carry on to talk about dessert and cheese. They, like the courses before, were nothing worth singing about. Lure's certainly not a restaurant that you'd find us returning to anytime soon. Normally, degustations are a vehicle for a restaurant to showcase the best of the chefs' abilities and the quality of the produce. In this case, Lure just messed up a really good opportunity.
We welcome any differing opinions, so please leave a comment, we'd really like to hear about your experience.
Lure Seafood Restaurant
28 McDougall Street
Milton, Brisbane
Tel: (07) 3369 9955
Technorati tags:
Food and Drink
,
Food
,
brisbane
,
food blogs
,
slow food
,
restaurant reviews
,
food outings
,
australian restaurants
,
australian restaurant reviews
,
brisbane dining
,
brisbane restaurants
,
seafood restaurant reviews
,
brisbane seafood