Eating out:
Bev and myself are always on the hunt for good places to eat here in Brisbane. For the benefit of others with the same motives, it does pay off to ask around. Taj Mahal is a prime example of this.
Two weeks ago, Bev and myself attended a cocktail reception where we stumbled across some old friends. As always, conversation eventually drifted towards discussions about the local food scene. We were keenly recommended by a friend, Mervyn, to check out three places in particular: Beccofino in Teneriffe for their thin and tasty wood fired pizzas, Le Bon Choix in Albany Creek for their delectable French pastries, and
Taj Mahal
in New Farm for their authentic Indian fare.
It was quarter to eight on a Thursday night, and we phoned Taj Mahal for a last minute reservation. We arrived on time with growling empty bellies.
The menu has a whooping selection of tandoori-ed entrees, soups, breads, curries and sides, all divided into two sections: vegetarian and non-vegetarian. We were graciously assisted with the menu selections by a charming lady running the floor. Following her recommendations, we ended up ordering a lentil soup, 2 tandoori entrees, 2 curries and 2 types of naan to share. Bev also ordered herself a mango lassi, a 'must-have' in her books when eating Indian.
Paneer Tikka- marinated cottage cheese and vegetables baked in Tandoor
Shahi Kebabs- minced lamb grilled in Tandoor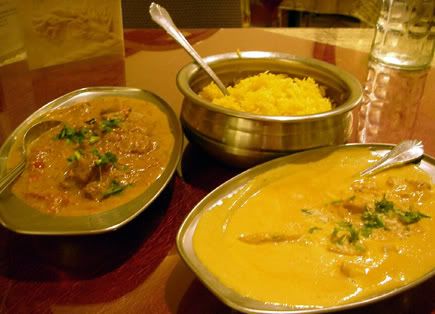 Beef Madras and Fish Moilley with complimentary yellow rice
Aloo (mashed potato stuffing) Naan and Garlic Naan
The food was good, especially the naans, which arrived hot and crispy. These were absoultely gorgeous when dipped into the curries. The curries themselves were piquant, aromatic and coconut-ty, although they lacked a bit of heat (you'll see why in a moment); and the tandoori dishes were fragrant and served with refreshingly cold yoghurt dips on the side. Bev commented that the mango lassi was the best that she had among the Indian restaurants that she's been to around here.
Our only regret was that we specified 'medium' when asked to choose between "mild, medium and hot" for our curries. It was only after the meal when chatting with the amiable restaurant owner that we discovered the availability of more levels of heat above those offered to us initially: Indian hot. Indian hot X 2, Indian hot X 3, etc. We should have at least ordered 'hot' or 'Indian hot'!!! That would have really given the curries an added kick.
Overall, factoring in the price, the quality of the food and friendliness of service, we'd definitely say that Taj Mahal is a restaurant very much worth the visit. I'm sure the Indian cricket team would be happy to vouch for that, considering they were regular patrons of the restaurant during their 2004 World Tour!
Taj Mahal Indian Cuisine
722 Brunswick Street
New Farm
Brisbane
Tel: (07) 32542388
Technorati tags:
Food and Drink
,
Food
,
brisbane
,
food blogs
,
slow food
,
restaurant reviews
,
food outings
,
australian restaurants
,
australian restaurant reviews
,
indian restaurant reviews
,
indian restaurant
,
indian cuisine
,
indian food
,
north indian food
,
tandoor
,
tandoori
,
naan
,
lassi
,
mango lassi
,
curries
,
curry