Barang
, pronounced as Bah-rung, opened barely two weeks ago along the Station Road stretch of surburban Indooroopilly. Opened by a young Singaporean couple, Barang aims to educate the general population who "can't tell between a Nasi Lemak and Nasi Goreng, Penang Laksa or Nonya Laksa" on the specifics of South East Asian food.
New Brisbane
was first in to conduct a review, and it did a great job of covering much of what I'd like to say about this new eatery/retail outlet. Apart from that, what I can add is that the food is really tasty and authentic. Being particularly familiar with Southeast Asian food, I have to comment that their chicken curry beats the other Brisbane competition hands down.
All the extra little touches in their food, such as the addition of fresh curry leaves in their chicken curry, truly reinforce their claim to authenticity. Now this is the REAL stuff.
Assurance in their food is very evident here, given their 6-dish main course menu. It takes a lot of confidence for a full scale restaurant to offer such a small range of food. But true enough, the food itself does live up to the confidence they've placed in it.
Compare their 6-dish menu with the stereotypical 101-dish menus in most Asian eateries which are, for the lack of a better word, mind boggling. At Barang, we can finally rest assured that the food we order undergoes a fast turnover, and ingredient items aren't sitting in the chillers for weeks, waiting to be utilised when someone finally orders number 87 off the menu.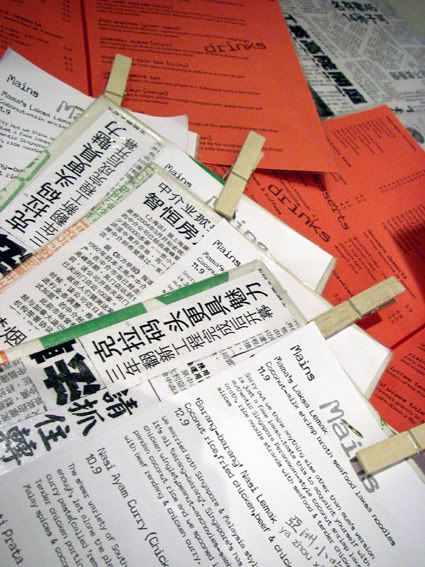 Concise menus: reader-friendly, educational and informative, attached clipboard-style alongside chinese newspaper cuttings. Very funky indeed.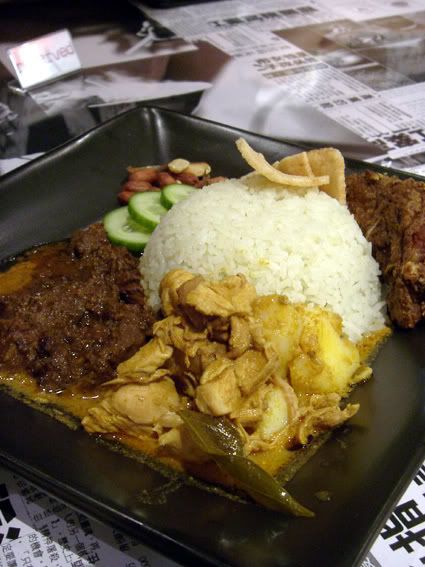 Nasi Lemak: coconut rice, fried chicken, beef and chicken curries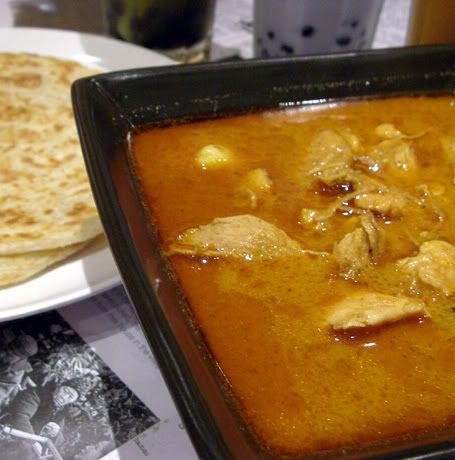 Roti Prata Singapura: a must-have in Singaporean cuisine. Pan fried flat bread with their awesome chicken and potato curry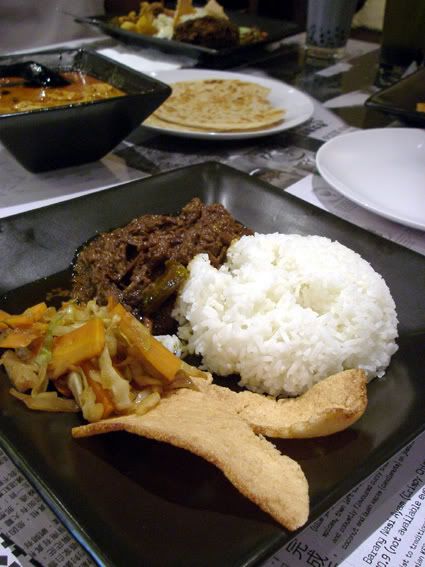 Nasi Beef Rendang: spicy beef chunks in a robust curry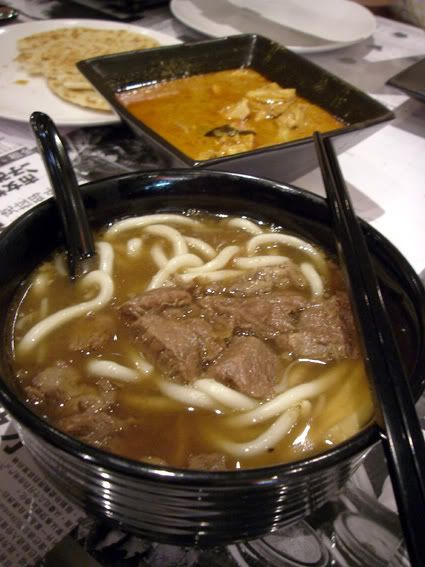 Hanoi-style beef soup with udon noodles: tender beef slices cooked in a rich and peppery broth
For those who are a tad unfamiliar and intimidated by Malaysian, Indonesian and Singaporean food, have no fear: everything is explained well in the menus, and friendly owners Chris and Kat would be more than willing to guide you along. As for those who've already been introduced to these foods, just get yourselves down to Indooroopilly quick.
Barang
Shop 5/8 Station Road
(Opposite Indooroopilly Hotel)
Indooroopilly, Brisbane
Phone: +617 3720 0169
Technorati tags:
Food and Drink
,
Food
,
brisbane
,
food blogs
,
slow food
,
restaurant reviews
,
food outings
,
brisbane dining
,
cafe reviews
,
laksa
,
nasi lemak
,
chicken
,
chicken curry
,
curry
,
asian cuisine
,
beef
,
beef rendang
,
udon
,
beef soup